The UK's youngest ever Railway Chaplain appointed
At just 19 years old, the youngest Railway Chaplain in Britain has been appointed to help support those affected by railway incidents.
The Christian charity, Railway Mission, has recently appointed Hannah Tuck from South Wales, and at just 19 years old, the youngest Railway Chaplain in Britain. She will be chaplain for the railway network for Wales and the Marches.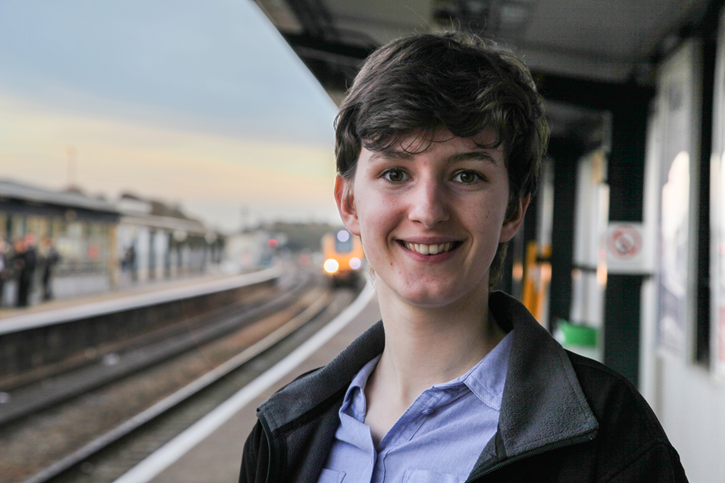 The charity has been supporting railway staff and members of the public affected by railway incidents for over 136 years. Their work complements that of the welfare services provided by rail employers, offering friendship and a listening ear to anyone connected to the UK's railway.
Hannah has been volunteering with St John Wales since she was 12 years old after she was treated for an injury by them at the Penarth festival and encouraged to join the organisation. During her time with St John Wales Hannah became first aid trained and was named County Cadet for Cardiff and the Vale, acting as a mentor and role model to other young volunteers in the area.  She managed all of this at the same time as being a young carer, supporting her sister who has Down's Syndrome and her mother also suffers from Atrial Fibrillation and migraines. Hannah also received the Commandant in Chief Award for acts of kindness, one of the highest awards available to a St John Cadet. She brings that same care, compassion and kindness to her role as Railway Chaplain for Wales and the Marches.
Hannah will be working closely with Arriva Trains Wales staff and partners at Network Rail and British Transport Police across Wales and the Marches. She had her first taste of action assisting passengers travelling after the 2017 Autumn Internationals Rugby Fixtures.
Railway Mission Executive Director Liam Johnston welcomed Hannah to the chaplaincy team saying: "Chaplaincy is not about age, but compassion and care for people, Hannah has demonstrated that even through her childhood, she has always put others first and shown the care and love for others that makes her the ideal chaplain."
Managing Director of Arriva Trains Wales, Tom Joyner said: "We are delighted to be working closely with Hannah as the chaplain for Wales and the Marches and extend her a very warm welcome to the rail family''
He continued: "The Railway Chaplaincy service has helped many people – particularly after fatalities and other incidents. They provide an essential service for our colleagues and customers and I'm sure Hannah will provide excellent support to those who need it"
"Hannah joins Railway Mission at an exciting time for the UK's railway industry. More people than ever are using the railway and more money is being invested in improving our railway. The service that Railway Chaplaincy provide is invaluable for both staff and rail customers and we are very grateful for the support they offer. We wish Hannah every success.''
Andy Thomas, route managing director for Network Rail in Wales and Borders, said: "The railway supports economic growth by connecting people, businesses and communities.
"With more people travelling by rail than ever before, Hannah joins Railway Mission at an exciting time for the industry as we continue to deliver a safe, reliable, affordable and growing railway for our customers."